Catherine Rhodes Photography
Beautiful
WEDDING & EVENT VENUE
Rustic Roots & Modern Charm
Corporate, Private, & Hosted
COOPER'S RIDGE EVENTS
Whether you're planning a corporate meeting, conference, sales meeting or a day for team-building, Cooper's Ridge Event Venue will assist you along the way. Contact us for details and to schedule a tour.
Are you looking for the perfect destination for your Anniversary, Graduation, Holiday or Just Because You Feel Like it Party? With 38 acres and 6,200 square feet of indoor space we can accommodate most any needs you may have for your event. Contact us for details and to schedule a tour.
Looking for an excuse to have an evening out? Follow the Cooper's Ridge Events page to see what we have planned! From speakeasys and live music to our dinner pairings series Uncorked and Beyond the Barrel, we'll keep you entertained!
The Millers
WEDDING GALLERY
Get a glimpse of Emily & Quinn's wedding, photographed by Lighter Focus Photography. From the guests to the wedding party, this day was simply perfect for the bride and groom!
Lighter Focus Photography
The Morgans
WEDDING GALLERY
Take a look at how joyful the day rounded out at Courtney and Tom's wedding, photographed by Catherine Rhodes Photography. Who doesn't love sparklers?
Catherine Rhodes Photography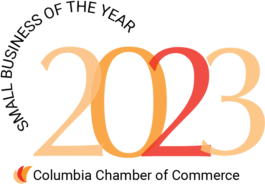 COOPER'S RIDGE AWARDED COLUMBIA CHAMBER OF COMMERCE SMALL BUSINESS OF THE YEAR FINALIST
Emily & Quinn
---
We just wanted to send a huge thank you for all your help in making our wedding day everything we wanted. From our first visit to the venue to meet with you, we knew Cooper's Ridge would the perfect place for us. We are so appreciative for the amazing resources and personalized attention you provided that made our day run smoothly.
Jill Lang
---
There are really no words that I can use to express this venue. As a member of the Holy Aid committee, which is a fundraiser we have done the last three years for Saints Peter and Paul Catholic Church, our venue fell through a few weeks before showtime. Coopers Ridge came to our rescue but we received so much more. They were very accommodating and hospitable and nothing went undone. So pretty and inviting, elegant and classy. We would recommend anyone check it out, promise you won't be disappointed!
Brittany Cook
---
Beautiful place with great people to make sure everything goes smoothly for your event. If you ever need a venue we highly recommend Cooper's Ridge, you will not regret it.
Jamie Prenger
---
Where to start… Cooper's Ridge will hold a special place in my heart FOREVER! Not only is it beautiful, but the owners are pretty awesome too! Sean and Kelly helped us make our wedding day magical, better than I imagined and things ran extremely smooth. I have heard that wedding days are very stressful, but anything that came up, Cooper's Ridge was on it! I recommend CR to anyone who is looking for an event space, big or small. Check out Cooper's Ridge!
Jason Woody
---
My wife and I were just married here over the weekend. We loved the venue from the get go while they were still in construction. From start to finish Coopers Ridge went under new ownership in that time period and we are very glad of that. Things went very smoothly and Sean and Brandi were very accommodating and professional with all of our needs for our wedding reception. The venue held approx 250 comfortably with plenty of room to dance. In addition from that, the venue is absolutely beautiful on the inside, and plenty of land for anything else. We had our engagement pictures taken here as well and the scenery is beautiful. We were very stressed with our wedding planning (who isn't) but Coopers Ridge was able to accommodate us very nicely.
Juliana Eckles
---
We can't say thank you enough for a beautiful wedding venue! The day was wonderful in large part due to all you did at Cooper's Ridge to make it seamless for us. We don't have our wedding pictures back just yet, but we expect them within the next 2 weeks. We'll be sure to copy Cooper's Ridge in anything we post and tell friends & co-workers about our excellent experience! Thank you Sean & Kelly!
Andy & Katie Humphrey
---
Cooper's Ridge was the perfect venue for our wedding! It truly had everything that we were looking for in a wedding venue & we didn't end up looking at any other place after we took a tour the first time. Some of our favorite things about Cooper's Ridge are the bridal cottage, which was perfect for getting ready, the picturesque ceremony site that overlooks the arbor & the fully-stocked bar! Also, the venue itself is located on a lot of land that was perfect for taking pictures–even though it was was 105 degrees on our wedding day, the trees created the perfect shade & in the evening there was a beautiful sunset behind the hills. Lastly, the staff were great to work with–they answered questions quickly & helped get things in order. Working with Cooper's Ridge was the perfect choice for our special day!
John Armontrout
---
Cooper's Ridge Event Venue was the perfect place for my daughter's wedding! The setting itself is spectacular and the staff was incredible. They were very attentive and seemed genuinely happy and a part of the festivities. It felt like we were having the wedding at home! I highly recommend Cooper's Ridge to make your event wonderful!
Minna McLaughlin
---
My husband and I got married at Cooper's Ridge and we had the best experience! The staff there are amazing, especially Kristen! She was extremely helpful during the wedding planning process and I couldn't have done it without her! The bar area is beautiful and a great area for all of the guests to hang out on the big day. The venue itself is gorgeous and they maintain the facility very well. They are also always updating and making improvements to the venue, making it more beautiful than it was before. All of our guests loved the space and we got a lot of comments throughout the night how cool the venue was! Thank you Cooper's Ridge for being a part of our special day!
Alyssa Allen
---
Cooper's Ridge is an amazing event venue! They definitely went above and beyond! We did the two day rental, and it was worth the cost! We had both the rehearsal dinner and wedding (ceremony + reception) at Cooper's Ridge. So many of my guests complimented the venue to me. I mainly worked with Kristen, and she was amazing! She responded quickly to emails, always had a great attitude, and was just overall a great person to work with. Definitely helped ease the stress of a bride planning her own wedding! She (and the venue) were well organized and provided so much information that was so helpful during the whole wedding process, not only for using their venue/making sure the day went how we envisioned, but also useful information that helped in finding vendors for the day! The venue space is so beautiful and well kept, both inside and out. It was amazing that they provide the option to rent decorations, as this made things so much easier and way less stressful! We loved that there was both a bridal suite and a grooms suite, and both were so cool! It was an amazing wedding and we are so glad that we chose Cooper's Ridge to host it at! I Highly recommend using Cooper's Ridge for any event you have, they will definitely take care of you!
Kate Bartlett
---
I loved everything about working with the Cooper's Ridge team. They were so easy to work with and helped make our day so, so special! Everything about the venue was perfect and so beautiful!
Amanda Jacobs, Jacobs Property Management
---
My company had it's 50th anniversary party at Cooper's Ridge Event Venue and we could not have been happier with the location, service, and event from start to finish! This facility is great for more than just weddings!
Julie Williamson
---
We recently had our wedding at Cooper's ridge and could not recommend it enough to others. All of the staff are friendly, helpful, responsive and truly want you to have the best day possible. Working with Kristen was great! The venue is beautiful and the perfect setting for a wedding. Thank you so much for helping make our special day great!!
Kylee Lawhead, Veterans United
---
Cooper's Ridge is a beautiful venue with kind, caring, and knowledgeable staff. Brandi is responsive, flexible, and wonderful to work with. She goes above & beyond and is always helpful on-site. We frequently take corporate groups out to Cooper's Ridge for both day and evening outings and they are always a success with happy guests. I definitely recommend booking your next event here! You are in fabulous hands when working with Cooper's Ridge!
Kelsey Clark
---
My husband, Eric, and I just used Cooper's Ridge for our reception. January 8, 2022 is so much more special to us because Cooper's helped us and was a part of our lives! I recommend them for everything. From being super responsive, to a beautiful venue, to the attitudes that are most important, I never felt like our wedding was in jeopardy. I felt the opposite. Your day will be more than you ever dreamed of because of Cooper's Ridge.
Emma Schauer
---
The choice of a venue for our wedding was easily decided after our tour at Cooper's Ridge. I had attended one of their Beyond The Barrel events and had fallen in love with the space and atmosphere at this venue. When we got engaged, I scheduled a tour at CR and after our visit, my husband told me we didn't need to look any further.
From the moment our tour started all the way to when the last guests walked out of the venue after our wedding, the team at Coopers Ridge were nothing but fantastic. Not only do they have an already beautiful space, but their staff is more than willing to make sure every question is answered and every need is met with regards to a wedding venue. We could not have imagined our wedding anywhere else! The bridal suite and their new grooms suite were a huge plus too!
Take a Virtual Tour
A GLIMPSE INTO
COOPER'S RIDGE
Do you intend to write your own wedding vows instead of repeating those of your officiant? Get on...
read more
Celebrate With Us!
No matter the occasion, nothing beats celebrating with the ones you love. Cooper's Ridge would love to help you host your next private party! With 38 acres of beautiful surroundings and 6,200 square feet of indoor space we can accommodate most any needs you may have for your party. Contact us today to request a tour!
Ready to Get Started?
COOPER'S RIDGE TOURS